Technology Training At The Library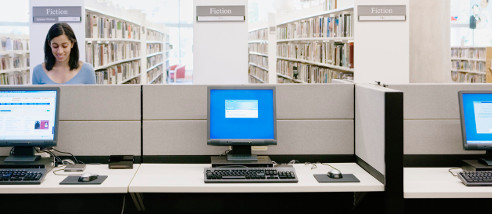 The Asheboro library periodically provides free technology training courses and always offers free 1-on-1 appointments to help you with our digital services librarian. Handouts are available by clicking on the PDF link in each class description below.
Computer Basics I
New to computers? Not sure when you're supposed to left click or right click? Don't worry. We are here to be your guide! This class will explain the most common features of the computer such the keyboard and how to turn off/on the computer.
Handout: Computer Basics I (PDF format)
Computer Basics II
This class is an extension of Computer Basics I and goes into further detail about how to use, manage and understand using a computer. We will be learning how to open and save documents, create folders to organize your information as well as how to use shortcut keys to cut, copy and paste your work. You are on your way to being computer literate.
Handout: Computer Basics II (PDF format)
Internet Basics I
The Internet has become an important part of everyday life for us. If you are new to the Internet it may seem confusing at first. Let us show you how to get online and understand what a browser is, setting up your home pace and how we use search engines to find the information you want quickly and safely.
Handout: Internet Basics I (PDF format)
Internet Basics II
Ready to improve your Internet skills? We will show you how to search more effectively, organize your bookmarks, and give you practice viewing websites by exploring two of the most popular websites on the Internet: Wikipedia and Google Maps. There will also be an explanation between searching the web and using the library databases.
Handout: Internet Basics II (PDF format)
Facebook Basics
This class is designed to help you learn to use Facebook in an internet browser on your desktop or laptop computer. In this class, you will learn basic Facebook navigation, how to create and edit your profile, updating your status, how to upload photos and how to manage friends lists. You will also learn to use account settings to find a level of privacy and security that is right for you.
Handout: Facebook Basics (PDF format)
Pinterest: Save The Cool Ideas You Find Online!
Pinterest is one of the most popular social media sites in the world, driven entirely by images. Let us show to get started. We will discuss common terminology, searching/exploring Pinterest and general their settings and privacy.
Handout: Pinterest (PDF format)
What is Instagram, Anyway?
Even if you don't use Instagram, you've probably heard about it. Instagram is a free photo and video sharing app available on your smartphone or computer. Instagram's popularity is in its simplicity. Let us show you why it has become so popular.
Handout: Instagram (PDF format)
Leaving Facebook
Tired of Facebook? Ready to leave it all behind? Let us take out the confusion for you. We will show you how to backup all of your data on the website as well as the difference between deactivating your account and deleting your account.
Handout: Leaving Facebook (PDF format)
Free Online Resources
Need more guidance on where to start? The Internet is a great tool for learning. There is a vast collection of useful free online resources to help grow your abilities with technology. These sites also do not require your library card. Click on the links below to visit these educational resources.
•GCFLearnFree.org - offers more than 180 topics, including more than 2,000 videos, over 800 videos the cover essential technical skills needed to live and work in today's growing world.

•Techboomers.com - a free educational website that teaches adults and other inexperiences Internet users about several different topics such as understanding social networks and online entertainment (e.g. Netflix). Their website is updated daily with several articles on interesting technical issues.

•Digitallearn.org - will show you how you can use a computer to do almost anything. This is a very easy to understand website that lets you learn tech skills are you own pace. Definitely worth taking a look at.

•Learnmyway.org - gives free courses on using the computer, browsing the web, sending email and finding jobs onine. Select the subjects tab at the top of their websits and get going!

If you have any questions, please contact us on our Ask A Librarian website. Simply scroll to the bottom the page to type your question. You can also call the Reference Department at 336-318-6803.
Tech Help Appointments

Need Help? We provide a free one hour 1-on-1 service for patrons needing digital assistance. We have a knowledgable library staff here to give you personalized technology assistance and instruction on your own device or using our public computers. Call the Asheboro Public Library, 336-318-6803, to schedule your appointment.